Euro Rebounds on Rising Expectations ECB May Wind Down Stimulus
7 June 2018, 12: 36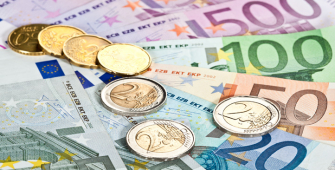 The euro remained near two-week highs versus majority of its rivals on Thursday, on increasing bets the European Central Bank may announce it will taper its stimulus program by year-end as early as next week at the end of its policy meeting.
The central bank's chief economist Peter Praet, a close ally of President Mario Draghi, said the ECB would debate next week whether to stop bond purchases later this year.
Jens Weidmann, the head of Germany's central bank, said bets that the ECB would taper its bond-purchasing program by the end of this year was likely while his Dutch counterpart Klaas Knot said there was no reason to extend a quantitative easing program.
The hawkish comments boosted the euro, hitting a two-week high of $1.17955 on Wednesday. The common currency last traded at $1.1781, adding to weekly gains amounting to 1 percent.
The ECB has been weighing whether to finish the 2.55 trillion euro bond purchase program this year as the risk of deflation has passed.
The euro firmed against other currencies, reaching a two-week high of 1.640 Swiss franc and 129.83 yen.
Meanwhile, the dollar continued its recovery from a five-week trough of 108.`115 yen hit on May 29 and last traded at 110.15 yen, having reached a two-week high of 110.27 in late U.S. trade on Wednesday.
But persistent concerns regarding trade disputes could limit the dollar's strength versus the yen as U.S. President Donald Trump looks determined to clash with other Group of Seven leaders at their weekend summit.
The Australian dollar reached a one-and-a-half month high of 76.777 cents on Wednesday and last traded at 76.68 cents, partially propped-up by the nation's solid economic growth data released on Wednesday.