Gold Edges Up on Weaker U.S. Dollar
7 June 2018, 11: 43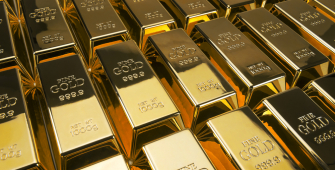 Gold prices rose on Thursday, propped up by a weaker dollar amid ongoing worries regarding a trade war between the U.S. and its allies.
Spot gold traded 0.1 percent higher at $1,296.91 per ounce. U.S. gold futures for August delivery were almost unchanged at $1,301.30 per ounce.
The dollar index, which tracks the greenback versus a basket of six major currencies, declining 0.2 percent to 93.497.
The Trump administration is not retreating from the tough stance it has taken on trade, according to Larry Kudlow, the White House' top economic adviser said on Wednesday, setting a stage for a dispute with America's top allies at this week's G7 summit in Canada.
The euro remained near two-week highs against majority of its competitors on Thursday, on increasing bets the European Central Bank may announce it will unwind its stimulus programme by year-end as early as next week.
The ECB will discuss next week whether to exit bond purchases later this year, the bank's top chief economist said on Wednesday, a hawkish message seen girding investors for another reduction in stimulus.
Holdings of SPDR Gold trust declined 0.42 percent to 832.59 tonnes on Wednesday.
India's gold imports fell a fifth consecutive month n May to 48 tonnes as a rally in local prices to near their highest level in 21 months reduced retail purchases, initial data from GFMS and bank dealers showed.