U.S. Trade Deficit Declines to a Seven-Month Low
7 June 2018, 11: 21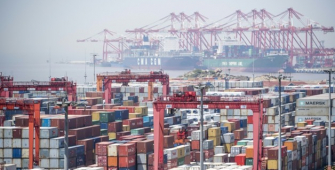 The U.S. trade deficit slid to a seven-month low in April as exports climbed to a record high, bolstered by an increase in shipments of industrial materials and soybeans.
The Commerce Department said the trade gap fell 2.1 percent to $46.2 billion, the smallest deficit since September. Data for March was revised to show the trade deficit declining to $47.2 billion, instead of priorly reported $49 billion. Economists polled by Reuters had estimated the trade deficit unchanged at $49 billion in April.
Goods trade deficit with China increased 8.1 percent to $28.0 billion in April. The deficit with Mexico fell to 29.8 percent to $5.7 billion in April. The U.S. had a $0.8 billion goods trade deficit with Canada in April. Exports to China dropped 17.1 percent during the period.
In April, exports of goods and services rose 0.3 percent to a record $211.2 billion. Exports were propped up by a $1.3 billion increase in deliveries of industrial supplies and materials such as fuel oil and petroleum products.
Exports of industrial supplies and materials were the highest on record in April. Soybean exports increased $0.3 billion and corn shipments also rose by a similar amount. But exports of commercial aircraft tumbled $2.8 billion.
Imports of goods and services edged down 0.2 percent to $257.4 billion in April. Imports of consumer goods dropped $2.8 billion, weighed by a $2.2 billion decline in imports of cellphones and other household goods. Motor vehicle imports slid $1.0 billion.Crude oil imports rose $1.0 billion during the month. Imports from China were unchanged in April.
When adjusted for inflation, the trade gap fell to $77.5 billion from $78.2 billion in March. The real trade deficit stood below its $82.5 billion average in the first quarter.
If the trend in the real trade deficit is maintained, trade could add to gross domestic product in Q2 after having a neutral effect in the January-March period.
Solid data ranging from manufacturing to consumer spending and the labor market prompted the Federal Reserve Bank of Atlanta to project that economic growth in the second quarter will surpass a 4.0 percent annualized rate. The economy expanded at a 2.2 percent pace in the first quarter.